Discussion Starter
·
#1
·
So this past Saturday marked the 1 year ownership of my 2009 Starfire Pearl IS F. For those of you that don't know
my story
of following and chasing the F from it's world debut in Detroit and the many hard laps around Laguna Seca, I decided to take the plunge. I decided on Starfire Pearl w/Black interior as most of my previous vehicles have been white including the 07 GS350 I traded from. My F was special ordered since my local region (Western) was not ordering any 09 IS F's unless it was just ML/NAV. I wanted Park Assist as well as ML/NAV so I went to my sources to get what I wanted. Instead of waiting the normal 90 days to special order, it took just over 30 days as my connections were able to "intercept" an ISF from another region's allocation. I already had the vin# to my IS F before it even left the Tahara Plant in Japan! Due to our unfortunate economic downturn during that time, the port of Long Beach was backed up with vehicles. My IS F arrived at the port during the week of Thanksgiving, but because of all the delays at the port, my car sat in a long line until it was freed to my local dealer of choice, Longo Lexus. Being my b-day is in December, my IS F was released from the port just a day before it was delivered to Longo. It was perfect timing, it became an early birthday present to myself. As soon as I got the call that my car was arriving, I went to Longo the day it arrived and took it home later that evening.
For those that know, I do plenty of driving despite having a seperate company car for my daily grind. I am very happy to report with just over 24k miles on the odometer, I am still riding on the original factory brake pads, original Michelin Pilot Sport PS2s (which still have a good 4/32" on the rear and 6/32" on the fronts), averaging 24mpg mixed city and highway and the car still runs as good as new minus a few rattles here and there (which have all been fixed). Other than the clear bra installed by Aerotect, window tint, Joe Z intake with Toms drop in filter , Lexus ipod adapter and the R-Spec DVD/Nav override, I have kept my IS F pretty stock considering this is Lexus' first attempt at a true factory sport tuned vehicle. I know Lexus engineers spend millions on tuning the ISF to it's current state. I'd like to preserve that feel for as long as I own the car. I do have thoughts of lowering the car and adding rims, but for now, i'm still enjoying the car in it's current state.
I've taken my IS F on several long distance trips all over California and a trip out to Las Vegas. I have had many run ins and might I add victorious run ins with many kinds of cars. I am pretty impressed how long the IS F can hang with the beastly BMW M5. I am very proud at the fact that my ISF has not had any mechanical or electrical issues to date and don't expect to have any in it's service. I have since switched from regular conventional motor oil and am currently using synthetics (for the first time in any Lexus or Toyota i've owned). The 8 speed direct shift transmission with 416HP 5.0L V8 is a pleasure to drive around in. It can be smooth and comfortable around town or it can be as responsive and angry when needed. There are a few things that I think Lexus should have focused more on are for example electronically adjustable suspension dampening and an LSD for us 08 and 09 ISF owners, but overall I am very satisfied with the whole package. There are plenty of great alternative vehicles out there, but i'm pretty much sold on the whole Lexus experience and what it has to offer me. I am anxious for the next year and the next 24k miles to come! If you don't have an ISF, you should get one, I highly recommend it!
12/12/08: Pre PDI, fresh with all the plastic.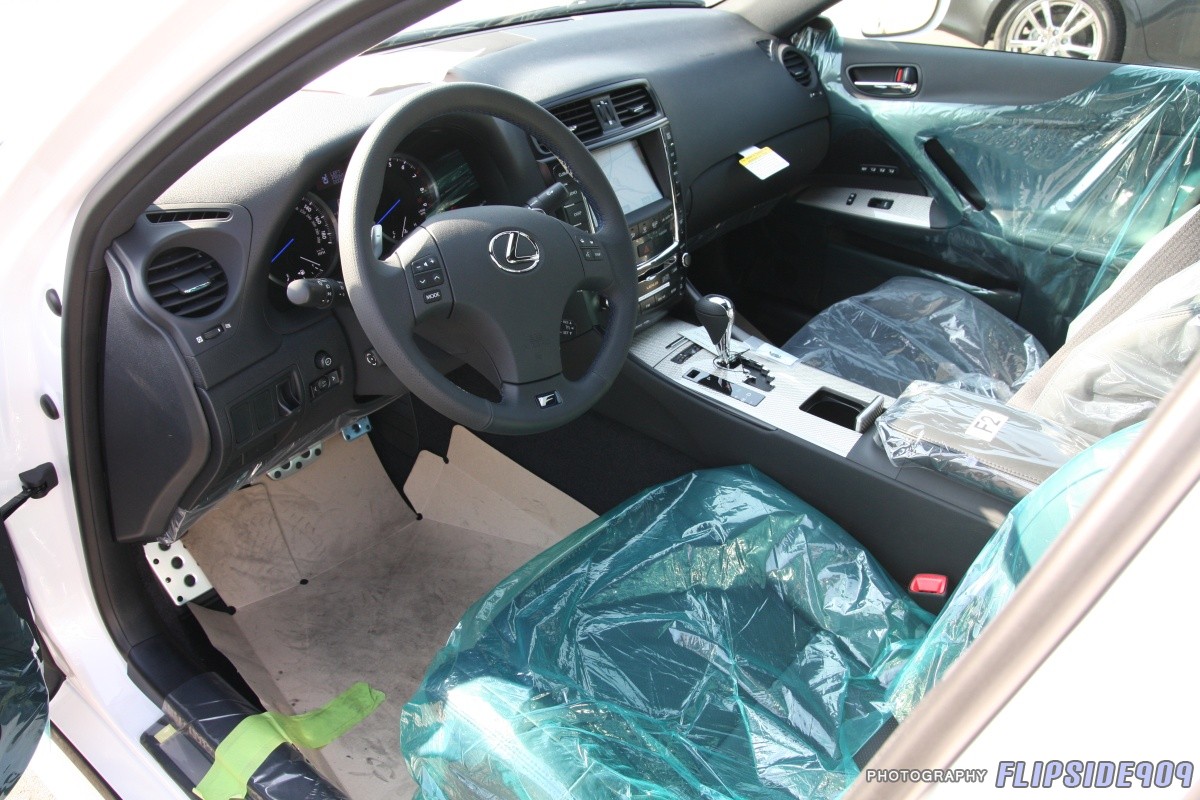 12/12/08: After the PDI, ready for delivery!