Four laps in the White Avenging Angel
Wednesday's arrival at Homestead-Miami Speedway was
déjà vu
all over again for this author, for it is not only my home track, but one I've driven in a couple of <A HREF="http://www.ermotorsportsexperience.com/">track days</A> in my trusty 2008 Mazda MX-5 Miata. As I parked near the paddocks, however, I was first met by the jaw-dropping sight of two Lexus LFAs in the garages, in starkly-contrasting Whitest White and Matte Black. Ryan (Flipside909) and I couldn't dwell on them for long, since lunch and the Product and Marketing Presentations beckoned. The end of the latter revealed that we'd be driving the LFAs on the same identical road course I'd driven on those track days, without entering the oval banking.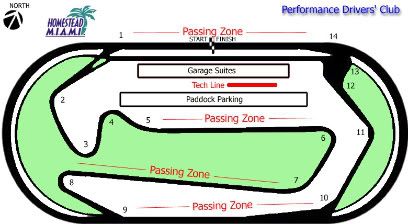 As we were finally ushered to the track, the White Avenging Angel was ready. Ryan was up first, but my turn came soon enough. First, though, came a familiarization lap as the passenger of a very distinguished driver: Hirose Naruse, Toyota's Master Test Driver and the highest-ranked among Toyota's 300 test drivers. Naruse-san participated in the development of all of Toyota's most enthusiast-friendly models, including the 2000 GT, the Mark IV Supra, the MR2s and the Lexus IS F, and was one of the four drivers of the #15 Lexus LFA that competed in the 2009 24 Hours of Nürburgring (his boss, Toyota CEO Akio Toyoda, meanwhile, co-drove the #14 LFA). As I strapped myself into the passenger seat, I was taken aback by how plushly padded and comfortable, yet totally supportive the seatbelt felt. No belt in the annals of automobiledom ever felt this good. It turns out that this was the first production car ever released to feature an airbag incorporated into the seatbelt! (Although, given the Lexus LFA's leisurely path towards production, it may be edged out by the <A HREF="http://www.autoobserver.com/2009/11/fords-new-inflatable-seatbelts-to-launch-with-next-gen-explorer.html#more">rear seatbelt airbags that will debut in the 2011 Ford Explorer</A>). Soon enough, Naruse-san presses the gas pedal, and the otherworldly, Formula 1-influenced howl makes this Lexus sound like no other one ever. And there's a couple of good reasons for this: not only did Lexus want to emulate, as much as possible, a Formula 1 V10 (with some rumors stating that Lexus wanting to name its supercar LF-1 before the race series' autocratic
supremo
Bernie Ecclestone vociferously objected), but part of engine builder Yamaha's conglomerate of companies includes Yamaha Music. As Josh Jacquot informs us in his <A HREF="http://www.insideline.com/lexus/lfa/2011/10-things-you-don-t-know-about-the-2011-lexus-lfa.html">
2011 Lexus LFA: 10 Things You Don't Know About the Supercar
</A> article for
Edmunds Inside Line
, "Two separate ducts route intake noise into the firewall from the intake manifold, allowing two different octaves of engine music to penetrate the passenger compartment. As a result, the LFA's engine note dominates the driving experience. Developed in conjunction with Yamaha's musical instrument division, engineers tuned the LFA's engine note the same way sound is tuned in an Ovation guitar. Uniquely shaped ribs in the intake manifold cover are designed precisely to produce a pleasing engine note. It works, too. Even with a helmet on, the LFA's engine note penetrates your soul".
The familiarization hot lap as Naruse-san's passenger ends quickly enough, and now it's my turn to get in the driver's seat. Nothing in the cabin, save the Circle-L and F logos on the steering wheel and the HS and 3rd-gen RX-flavored Remote Touch central mouse-like controller feels related to any other Lexus before it. Yet, the quality of workmanship in the red and black cabin is totally Lexus-worthy, and then some. Even the signature sport pedals that originated with the first Lexus IS have given way to a design that combines race car minimalist functionality with cool, arched modern sculptural flair.
The driver's seat is adjusted via unusual curved metal paddle-like levers next that lie flat and facing upward between the left edge of the seat and the door.
After buckling in (and again singing a silent chorus of hosannas for the amazing seatbelt), I make sure that the large dial protruding from the top right side of the instrument cluster is in SPORT mode, I stare at the instruments themselves, and I notice a faint R and 1 surrounding the large N below the digital speedometer. In an "aha" moment, I realize that this is the gear indicator, and not the gigantic compass pointing north that, up to that point, I'd figured that was. The round central gauge, regardless of transaxle mode, is surrounded by an outer ring divided into twelve "segments" that, in all but SPORT mode, line up with each point of the tachometer from 0 to 10(,000) RPM with a blank one for what would be 11. This echoes the design of a number of watches, and may be construed as a
very
subtle homage to the original Lexus IS's signature chronograph gauges. Once you hit SPORT mode, however, the mostly white-numerals-on-black dial morphs into a white ring with black center and large black numbers on the white ring, which itself has a broad red band between 9(,000) and 10(,000) RPM. Oh, and 1 and 3 are missing, with the "scrunched" numbers hinting that the tach will spin
really
fast. In fact, the 1LR-GUE V10 builds revs so quickly that a conventional analog tachometer needle simply can't keep up, hence the use of a Liquid Crystal Display panel with a color Thin Film Transistor for the instrumentation. The tachometer also employs a motor-driven movable ring for the numbers. Thus, at higher revs, the needle will be pointing straight up, and it is the numbers that will rotate into place.
Naruse-san was not my designated passenger for my drive, but rather, another of Lexus' test drivers with a better command of English, all the better to curse me out if I do something seriously wrong, I suppose. Recalling what we were told earlier during the Product Presentation, I pulled both shift paddles back, but, since the LFA was already running, I then did what I should've done in the first place, and simply moved the right-side+ paddle into first gear, and slowly drove down pit lane, then nudged the gas as I entered Turn 2. The succession of Turns 2, 3 and 4 were handled with aplomb, with Turn 5 marking the entry to the first of Homestead's three straights. As I stepped on it, the LFA rocketed forward, but never with the strong push in the back of a high-torque engine like, say a Viper or Corvette. This is to be expected, given that the LFA V-10's 354 lb/ft of torque is well down from its 552 hp, versus the closer torque and horsepower alignment of the American supercars. The transaxle responded quickly and smoothly to both upshifts and downshifts from the paddles, and both the time-to-upshift beeps and rev matching "whompf" from the IS F are present and accounted for in the LFA, but they are muted by the glorious engine and exhaust sounds. Handling is flat and controlled, with virtually no body roll being felt. Pokes of the gas to attempt to bring the tail out are met with the gentlest of tail wags as the hand of VDIM swiftly yet naturally brings the car back online. A quick glance at the speedometer on my second lap reveals that I hit 117 mph on the third straight, past Turn 9. While nowhere as iconic as Laguna Seca's Corkscrew, Homestead's Turn 10, a sweeping, descending left-hander coming off the third straight, is arguably the trickiest one to negotiate. My second track day here saw a couple of the participants' cars suffer significant damage when they entered it "too hot". Yet, contrarian that I can be, this is my favorite turn on the track, and it is a blast in a low-powered "momentum" car like my Miata, when you don't need to slow down all that much. Given that the LFA has 3½ times the power but only weighs about 25% more, some serious recalibration of my style was in order. Fortunately, the LFA managed to make this a totally intuitive and controllable experience, and, before I knew it, my three laps in the White Avenging Angel were up, and my passenger's left hand motion to enter Pit Lane from Turn 12 instead of Turn 14 to reenter the track was the extent of our communication.
Five laps in the Matte Black Beast
After a mercifully short break, another LFA beckoned: the Matte Black Beast. As my named was called, I hustled to grab a helmet and put on my <A HREF="http://en.wikipedia.org/wiki/Balaclava_(clothing)">
balaclava
</A> (or, more prosaically, head sock). As I approached, I saw that it was the white leather driver's seat that was empty, and riding shotgun with me was none other than Scott Pruett, the winningest American professional sports car race driver ever and a Lexus-powered Grand-Am Daytona Prototype driver since 2004. As I reached down into the channel of the broad shoulder line below the side window to push down on the flush rectangular door handle to open the door, C3 Corvette-style (shown above, for greater clarity, in the white LFA), I sat down and made myself comfortable. This time around, I scrolled through the large four-mode dial menu just to see the LCD/TFT dial morph from one mode to the other, then, for good measure, changed from Normal Screen Mode to Menu Display Screen Mode, which slides the combination circular dial to the right and pops out several submenus to the left, including a stopwatch function from the "Timer" menu that I'm still kicking myself for not having programmed. I made sure that the Matte Black Beast was in SPORT mode, but, again quoting Josh Jacquot of
Edmunds Inside Line
, not even Scott Pruett was allowed to disable the stability control nor use the purported launch control that may or may not be available in the United States.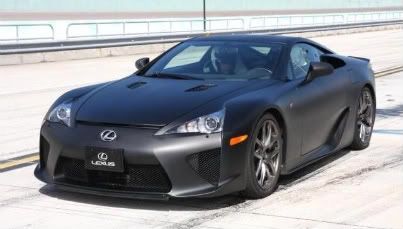 As I got underway, I noticed that the shifts in the black LFA felt far sharper and rougher than they did in the White Avenging Angel. Car-to-car variation? Possibly, but a far more likely explanation is that gearshift speeds can be adjusted in seven stages – from approximately 0.2 seconds for intense track work to 1.0 second for smooth cruising – using the Shift Speed Selection dial, and I'd venture a guess that Scott Pruett prefers the faster response time even at the cost of smoothness versus Hirose Nasure's slower but smoother shift setup. Perhaps it was my response to the transaxle shift setting, or perhaps the overconfidence that such an amazingly capable car inspires, but traces of sloppiness seeped into my driving, yet the LFA just motioned itself into the ideal line after the briefest rear twitch. On Lap 2 with the Matte Black Beast, I was so enthused that, as the first straight closed in on Turn 6, Scott Pruett's "brake-brake-brake-brake-brake" finally made me do just that, and the carbon ceramic brakes scrubbed off speed with supernatural ability and I entered the tight right-hander fuss and drama-free. Another cursory glance at the speedometer on the third straight revealed I was doing 121 mph, 4 mph faster than in the White Avenging Angel. As my three laps were up and we pulled into Pit Lane, Scott Pruett rhetorically asked me whether I preferred for the shift paddles to be mounted on the steering column, as they are on the LFA, or atop the steering wheel spokes? I paused and thought about it, and decided that Lexus got it right by affixing the paddles to the steering column. Scott respectfully disagreed, voicing a preference for the paddles to be atop the spokes as they are on
his
Lexus, the #01 Telmex Ganassi Daytona Prototype racer.
Now it was time for my hot lap riding shotgun with Mr. Pruett. The first thing I picked up on is that the shifts that felt so harsh at my hands felt notably less so at Scott's. The car slid a bit more at his rates of speed, but I was still struck at how the LFA went around the track with less fuss and sliding around than a Lexus IS F with the VDIM fully turned off. His single lap became two (can you blame him?) and, on the third straight, he nonchalantly observed that it was his fastest lap: 131 mph. Hmmm...10 mph faster, smoother shifts...I supposed that's the difference between a world-class professional race car driver and a
dilettante
pretender like this author...
The White Avenging Angel on the oval banking
Shortly after returning from my date with the Matte Black Beast, this author learned that his Club Lexus counterpart Ryan had been given a lap on the Turn 3 and 4 portion of the oval with Hirose Naruse at the wheel. Hey, we're not about to let that be a Club Lexus exclusive, are we? No, sir, and, soon enough, I donned my protective headgear and jumped into the passenger seat of the White Avenging Angel once more. (The stuff this author does for you people, I swear...) Naruse-san seemed more enthused this lap around, and as we made our way just to the right of the cones that politely suggested we enter Turn 10 instead, our entry onto the Oval Turn 3 meant that we were on the so-called <A HREF="http://www.homesteadmiamispeedway.com/Track-Info/Track-Rentals.aspx">Modified Road Course</A>. Riding in the LFA on the banking and into Oval Turn 4 was a surreal experience as the car tilted leftward and paved track surrounded – no, enveloped – us. It certainly gave me a newfound understanding and even respect for what NASCAR drivers go through lap after lap, although I'll never like, let alone love those yestertech glorified taxi cabs nor the notion of racing in circles and never turning right, but I digress...
If a picture is worth 1000 words, how many words is a video worth?
Until relatively recently, most journalistic accounts of how an exotic automobile feels to drive were dependent on the writing abilities and descriptiveness an author could muster, and the reader's mental abilities and imagination at picking up on the experience and filling in the blanks, so to speak. With the advent of
YouTube
, in particular, it's not much of a struggle any more, neither for the author nor, especially, the reader-turned-viewer. The words of this author which you've just read have, hopefully, conveyed what ten laps of Homestead-Miami Speedway (six as driver and four as passenger) aboard the Lexus LFA felt like, but, admittedly, it's
much
easier to envision and vicariously share the experience by watching it on video. By simply clicking on the links, you'll be able to ride along with <A HREF="http://my.is/forums/f136/flipside909s-lfa-video-400968/#post6035714">Flipside909</A>, <A HREF="http://www.autoblog.com/2009/10/23/lexus-lfa-video-hot-lap/">Damon Lavrinc of
Autoblog
</A>, <A HREF="http://www.youtube.com/watch?v=e9_xDZQ_Lmc&feature=player_embedded">Brian Scotto of
0-60
Magazine</A> and <A HREF="http://www.youtube.com/watch?v=mNc8W5VTwww&feature=player_embedded">Josh Jacquot of
Edmunds Inside Line
</A>. Also worth seeing and hearing is Lexus' official <A HREF="http://www.youtube.com/lexusvehicles#p/a/u/0/xNeHwmjcI7c">
LFA in action -- V10 engine at work
</A> video, filmed at Japan's iconic Fuji Speedway.
The yin and yang of the Lexus LFA
A couple of days after the LFA Press Preview at Homestead-Miami Speedway, Senior Moderator Joe Z, in a phone conversation with this author, mused about whether the fact that the two Lexus LFA pre-production prototypes in North America were Whitest White and Matte Black might carry some deeper, yin and yang Asian symbolism and meaning. He may well be on to something. As defined <A HREF="http://en.wikipedia.org/wiki/Yin_yang">in
Wikipedia
</A>, the concept of yin and yang is used to describe how seemingly disjunct or opposing forces are interconnected and interdependent in the natural world, giving rise to each other in turn. Many natural dualities — e.g. dark and light, female and male, low and high — are viewed in Chinese thought as manifestations of yin and yang. According to the philosophy, yin and yang are complementary opposites within a greater whole. Everything has both yin and yang aspects, which constantly interact with each other, and it is impossible to talk about yin or yang without some reference to the opposite: yin–yang are rooted together.
Granted, the concept of yin and yang is primarily a Chinese one, yet applying it to the Japanese Lexus LFA isn't really that much of a stretch. Traditional Lexus levels of ergonomic comfort; quality of materials and fit and finish; powerplant smoothness and low-effort steering are present and accounted for in the LFA. Yet, supercar levels of acceleration, braking and handling performance, combined with an unmistakably Formula 1-inspired engine sound melodiously tuned by musicians are anything but stereotypical Lexus cocoon-like isolation. After all, when was the last time you heard a Lexus engineer say that "we considered (a dual-clutch transaxle) but I don't like the mechanism because you can't feel the gearchange. A dual-clutch feels too much like a torque converter automatic" as LFA Chief Engineer Haruhiko Tanahashi did. The curious contradictions of yin and yang even manifested themselves in the "pit crew" that Lexus had on hand at Homestead. Every time each of the two LFAs came in from one of the journalist trio of laps, the crew would dutifully double-check tire pressures
and
wipe down the car to make sure it was clean and presentable for the photos and eventual show appearances (the Matte Black Beast going on to <A HREF="http://my.is/forums/f45/sema-2009-matte-black-lexus-lfa-makes-north-american-debut-las-vegas-401233/">the SEMA Show in Las Vegas</A>).
And we're not alone in being captivated and intrigued by the LFA, and yet, ultimately at a loss for words to
truly
describe it and do it justice. As Damon Lavrinc of
Autoblog
stated in <A HREF="http://www.autoblog.com/2009/10/26/2011-lexus-lfa-first-drive/">his review</A>, "It's taken nearly four days to wrap my head around the 2011 Lexus LFA, and if I'm honest, I'm still not halfway there...I can't make heads nor tails of Lexus' first foray into supercardom, simply because nothing exists in the four-wheeled world to put it into perspective. Judging by your comments, I'm not alone...There's simply no frame of reference to apply, which begs the question: Why? Why has Lexus invested hundreds of million of dollars, ran a dozen races and developed nearly every single component in-house to build a scant 500 LFAs and offer them to the world's elite? It's a mystery wrapped in an enigma coated in carbon fiber. And there's obviously more to this story than simply driving impressions and photos. So after last week's barrage of LFA news, it's time to take a step back... then get stuck right back in. The general consensus is that Toyota built the LFA simply because it could. That's just a poor excuse to prevent your head from exploding. The LFA represents more than just a V10-powered, carbon fiber plaything; the investment in development, technology and manufacturing appears to be a cornerstone of ToMoCo's future products and Toyota President Akio Toyoda's vision for the automaker." And, with those eloquent words that this humble scribe is hard-pressed to top, we leave you to ponder the existential questions provoked by the pinnacle of not only the passionate pursuit of perfection but of Japanese automotive achievement. Or, perhaps, if you're more hands-on active, we'll leave you to run to your nearby convenience store to buy some lottery tickets in the hopes that you can make one of the 500 LFAs your very own.
And now, the Thank Yous
We at my.IS would be remiss if we didn't thank all those responsible for making this memorable opportunity possible. Present at the LFA Press Preview were
David Nordstrom
, Lexus' U.S. Vice President of Marketing;
Brian Smith
, Lexus' U.S. Vice President of Sales and Dealer Development;
Brian Bolain
, Lexus' National Marketing/Lifecycle Strategy Manager;
Paul Rohovsky
, Lexus LFA Launch Manager;
Paul Williamsen
, National Manager of Lexus College;
Ming-Jou Chen
of Lexus Division Communications;
Richard Kelley
of Lexus Southeast Public Affairs; Master Test Driver
Hirose Naruse
and Lexus/Chip Ganassi Racing with Félix Sabatés Racing driver
Scott Pruett
. Although not present, we also owe a huge debt of gratitude to
Mark Templin
, Lexus USA group Vice President and General Manager and to Lexus LFA Chief Engineer,
Haruhiko Tanahashi
. As for their hospitality, we'd like to thank the staff of the <A HREF="http://www.mondrian-miami.com/#/explore/?id=overview">Mondrian South Beach Hotel</A>.
Photo Credits
Photos 1, 6-8: Flipside909
Photos 2-5, 9, 10: Lexus USA