Tuesday 20 and Wednesday 21 October were momentous days in Lexus history. In Tokyo, Japan, the final production version of the ten years-in-the-making Lexus super sports car, the LFA, was unveiled amidst the Press Conferences for the pared-down 2009 Tokyo Motor Show, marking the first time the general public would be able to view it in the metal (well, in the carbon fiber and aluminum, at any rate). The world's major automotive publications and websites were finally unshackled from a press embargo and soon accounts began to flow about LFA drives roughly a month earlier in Germany, on the full original Nürburgring
Nordschliefe
from <A HREF="http://www.caranddriver.com/reviews/car/09q4/2012_lexus_lfa-first_drive_review">
Car and Driver
</A>, <A HREF="http://www.roadandtrack.com/article.asp?section_id=10&article_id=8478">
Road & Track
</A> (including <A HREF="http://www.roadandtrack.com/article.asp?section_id=7&article_id=8480">5 questions with LFA Chief Engineer Haruhiko Tanahashi</A>), <A HREF="http://www.automobilemag.com/reviews/driven/0912_2011_lexus_lfa/index.html">
Automobile
</A>, the contrarian <A HREF="http://www.motortrend.com/roadtests/coupes/112_0912_2012_lexus_lfa_first_drive/index.html">
Motor Trend
</A>, <A HREF="http://www.autoweek.com/article/20091021/TOKYO/910209986#ixzz0UdaJuEIC">
AutoWeek
</A>, <A HREF="http://www.insideline.com/lexus/lf-a/2010/2010-lexus-lf-a-first-drive-and-video.html">
Edmunds Inside Line
</A> and <A HREF="http://www.popularmechanics.com/automotive/new_cars/4334491.html">
Popular Mechanics
</A> (!) Meanwhile, attempting to fly semi-secret and under-the-radar, the United States – this author's hometown of Miami, Florida to be exact – was the third locale to play a pivotal role in the launch of the Japanese auto industry's crowning achievement. On that Tuesday, Lexus USA executives were familiarizing themselves with the LFA at Homestead-Miami Speedway (venue for the <A HREF="http://my.is/forums/f47/grand-am-daytona-prototype-2009-season-finale-miami-400145/">Grand-Am Daytona Prototype 2009 season finale</A>) and, in the early afternoon, took two pre-production prototype Lexus LFAs to <A HREF="http://www.meineke.com/Center/2059.aspx">a nearby Meineke Car Care Center</A> for, presumably, a tire change or alignment. Attempting to hide two Lexus LFAs before their public unveiling is akin to hiding an elephant behind a silk curtain, and, soon enough, <A HREF="http://www.nagtroc.org/forums/index.php?showtopic=34462">Adrey of the NAGTROC (North American Nissan GT-R Owners Club)</A> posted pictures of this eye-popping find, and the news soon spread through the Internet like wildfire, including <A HREF="http://www.autoblog.com/2009/10/20/video-lexus-lf-a-breaks-cover-before-tokyo-unveiling/">
Autoblog
</A>, whose Damon Lavrinc wrote at 4:26 Eastern Time on Tuesday that "in less than six hours the wraps will officially come off the Lexus LF-A at the Tokyo Motor Show. And about 36 hours after that, we'll be piloting Lexus' first foray into supercardom on and around Florida's Homestead-Miami Speedway". What Damon didn't know is that 24 hours
before
that, yours truly, along with Club Lexus editor Ryan (Flipside909) would get
their
opportunity to drive the LFA, thus being among the very first non-Lexus employees to do so on U.S. soil.
Those of you that have read our Lexus <A HREF="http://my.is/forums/f43/return-laguna-seca-f-press-preview-344682/">IS F</A>, <A HREF="http://my.is/forums/f41/return-alternate-lexus-bodystyle-389880/">IS C</A> and <A HREF="http://my.is/forums/f41/lexus-hs-sybil-automotive-world-391268/">HS</A> Press Preview articles will recall their tendency to focus on detail and, at times, obscure information unlikely to appear in other stories on these vehicles. With the LFA creating the biggest buzz and interest of any Lexus model since the original LS 400, however, a vast majority of those bits of information are already out there in the article links cited in the previous paragraph, and the <A HREF="http://pressroom.toyota.com/pr/tms/lexus/document/LFA_story.doc">initial</A> and <A HREF="http://pressroom.toyota.com/pr/tms/lexus/lexus-lfa-supercar-to-make-north-111506.aspx">follow-up</A> Press Releases from the Lexus USA Newsroom are also more detailed and informative than is customary for them. In other words, forgive us if portions of this article give you a strong sense of
déjà vu
.
A decade in the making: the full Lexus LFA timeline
With 5 years having elapsed from the first sighting of a Lexus LFA test mule at the Nürburgring to the unveiling of the fourth and final production-ready iteration of the Lexus supercar, some pundits are complaining about pre-production overexposure fatigue of the sort that ultimately doomed the two-seat Ford Thunderbird and Volkswagen New Beetle revivals to disappointing sales versus the sky-high expectations their original concept versions engendered. In the final analysis, though, this is an unfair comparison, for these vehicles, as well as the Chevrolet Camaro revival are all, at heart, parts-bin specials that required much less clean-sheet-of-paper engineering than the Lexus LFA. Even the current Nissan GT-R, whose original concept-to-final production gestation wasn't all that much shorter than the LFA's, leans more on pre-existing engine bits than the Lexus.
Initial studies for the LFA actually started even before the turn of the millennium. Given the lofty moonshot-like goals of the development team, and how the LFA shares next to nothing with any other Lexus or Toyota model, it is hardly surprising that its gestation was this long, especially given the carmaker's Relentless and Passionate Pursuit of Perfection. And just as Orson Welles famously reminded us that Paul Masson Vineyards will sell no wine before its time, Lexus will not sell the LFA before it's good and ready and as near-perfect as can be. Here, then, is the timeline of major past and future milestones in Lexus LFA history:
2000 February:
Study on LFA started
2001 December:
Development of V10 engine started
2003 June:
First prototype vehicle completed
2004 October:
First test drive at Nürburgring race track conducted
2005 January:
First concept displayed at North American International Auto Show
2005 May:
Study on carbon fiber body started when the originally-projected aluminum construction fails to produce optimum weight savings.
2005 November:
Approved by Product Planning Committee
2007 January:
Revised concept displayed at North American International Auto Show
2007 December:
Approved by Development Decision Committee
2008 January:
Roadster concept displayed at North American International Auto Show
2008 April:
Approved by Product and Design Decision Committee
2008 May:
First raced at Nürburgring 24 Hours. Among the drivers is current Toyota president and CEO Akio Toyoda, who enters under the pseudonym Morizo, his dog's name.
2009 May:
Second race at Nürburgring 24 Hours. Again, Morizo/Akio Toyoda is one of the drivers.
2009 October:
World premiere at Tokyo Motor Show. Lexus U.S. LFA Information Center at 1-866-LFA-4794 opens to identify potential buyers, set up sales consultations and finalize orders.
2010 January:
Lexus U.S. LFA Information Center at 1-866-LFA-4794 closes
2010 June:
1st order input is entered
2010 December:
Start of production (line-off) scheduled for 1st order input. 2nd order input is entered.
2011 January:
1st Delivery
2012 January:
20 optional Special Colors exteriors enter production
2012 November:
Final Build
2013 January:
Final Delivery
That list is but the tip of the iceberg, however. There is one other veritable treasure trove of information on the Lexus LFA that we haven't mentioned: <A HREF="http://ww2.lexus-lfa.com/index.html">the official Lexus LFA Website</A>. Currently available in English and Japanese, with future iterations to be available in Chinese and Arabic (which, in and of itself provides overt clues as to where Lexus expects to sell most of the LFAs), the MILESTONES link to the right of the screen past the selections of language and region leads to a far more detailed and interactive history.
The 1LR-GUE 4.8-liter V10
As with its even rarer-than-LFA spiritual ancestor, the <A HREF="http://en.wikipedia.org/wiki/Toyota_2000GT">Toyota 2000GT</A>, Lexus' parent Toyota turned to its 5% owned affiliate <A HREF="http://en.wikipedia.org/wiki/Yamaha_Motor_Company">Yamaha Motor Company</A>'s expertise in high revving and high specific output naturally aspirated engines to help design and build the Lexus LFA's 1LR-GUE 4.8-liter V10, a collaboration that earlier sired the Toyota Altezza RS200's BEAMS 3S-GE and Toyota Celica GTS' 2ZZ-GE 4-cylinder engines. The V10's other vital statistics include an output of 552 hp (412 Kw) @ 8700 rpm, 354 lb/ft (480 Nm) of torque @ 6800 rpm, a 9000rpm redline with a fuel-cut point of 9500 rpm and a 12.0:1 compression ratio. Most admirably, it is physically smaller and lighter than the 2GR-FSE 3.5-liter V6 that powers the Lexus IS 350! The rationale behind going for a V10 is a combination of a desire to follow pre-2006 Formula 1 practice and, according to chief engineer Tanahashi, "We couldn't get such high revs from a V-8, and a V-12 is too big and heavy".
Yet another reflection of the LFA's lengthy gestation is the use of port fuel injection only, as opposed to later-tech direct or dual port plus direct injection as used on current Lexus IS, GS and LS models. As with the V10 configuration that later fell out of favor with Formula 1, Lexus engineers determined that, given the LFA's limited model run, this wasn't worth further delaying the car's introduction over. What's more, inherently quieter port injection means that the LFA engine compartment isn't overwhelmed by the Unholy Shroud of Tahara that covers so much of the current direct-injected Lexus V6s and V8s.
The 1LR-GUE 4.8-liter V10 is such an all-new, clean-paper engine for Lexus that, when Flipside909 asked about the significance of the "U" in the engine code, even Lexus officials were stumped. We agree with Paul Williamsen of Lexus College's educated guess, however, that it is most likely a reference to the racing-inspired dry-sump lubrication system. This system, which includes scavenge pumps mounted at the bottom sides of the engine, front-mounted air-cooled oil cooler, a large liquid-cooled oil cooler inside the V-bank, two oil filters and a large 2.5 gallon (10 liter) oil crankcase capacity allows a flow of 240 liters per minute at 9000 rpm. In other words, it allows emptying and refilling of the oil reservoir 24 times a minute, even while driving on a circuit with high-grip racing tires at over 2G lateral acceleration!
As with Mercedes-Benz AMG models, each Lexus LFA V10 engine will be assembled by a single engineer, whose signature appears on the engine. And there are only two of these Yamaha engineers, with each of them finishing an engine every two days.
The 6-speed Automated Sequential Gearbox
Befitting a supercar for the new millennium, the Lexus LFA does not offer a traditional manual-with-a-clutch-pedal transmission, but instead relies on an Automated Sequential Gearbox with an electronically operated clutch (but no clutch pedal) and steering wheel column-mounted paddle shifters. Those of you surprised by the LFA's relatively simple port-only fuel injection will be further shocked to hear that Lexus engineers chose to forego a dual-clutch arrangement such as that favored by Audi, Porsche and the Nissan GT-R in favor of a single clutch. A paragraph from the initial Lexus USA Newsroom Press Release succinctly offers the company's rationale: "The incredibly quick-revving nature of the LFA's V10 engine demanded a single ultra-light and responsive clutch, a move that effectively ruled out a double-clutch transmission. The engineers also felt the ASG transmission's positive and direct shift quality – as opposed to the almost artificial smoothness of current double-clutch transmissions – significantly enhanced the driving experience, making the driver aware of machined parts working together in harmony when changing gears for a satisfying sense of mechanical engagement". This author also wonders if using a single clutch helps avoid the fragility that notoriously plagues the Nissan GT-R dual-clutch rear-mounted transaxle.
Speaking of rear-mounted transaxles, the Lexus LFA has chosen this route as well, echoing Aston Martin, front-engined Ferraris and C5 and C6 Chevrolet Corvettes. Engine and transaxle are connected by a torque tube, which enhances powertrain rigidity and reduces torque reactions. A Lexus first for this layout is the incorporation of an offset front counter gear with a 1.259:1 ratio whose center sits lower than the torque tube center. This, in conjunction with the dry-sump lubrication system allows the engine to be placed even lower in the chassis for optimum handling and balance. Tanahashi-san and his band of engineers strove for, and ultimately achieved a 48% front/52% rear weight distribution, a balance that combines the controllability and straight-line stability of a front-engine rear-drive layout with the handling dynamism and cornering agility of a mid-engine rear-drive platform.
The transaxle, with its 3.417 final drive ratio, includes a limited slip differential and features four distinct driving modes – AUTO (the default mode), SPORT, NORMAL and WET. A separate Shift Speed Selection dial, situated just below the Mode dial allows for gearshift speeds to be adjusted in seven stages – from approximately 0.2 seconds for intense track work to 1.0 second for smooth cruising. In AUTO mode, the shift speed is fixed in the second speed stage for smooth and comfortable gear changes.
More on the LFA underpinnings
Sitting on a double wishbone front and multi-link rear suspension layout rendered in aluminum and employing hollow anti-roll bars to further reduce unsprung weight, the Lexus LFA's ride and handling reflects its years of development on the Nürburgring
Nordschliefe
. The production LFA's aluminum, remote-reservoir monotube nitrogen-charged dampers are the same as those fitted to the LFA Nürburgring 24 Hour race car, but this competition experience actually led to a major upgrade for the "street" LFA that was lacking in the race cars: advanced Carbon Ceramic Material (CCM) brake discs, which are a pricey option on rival Porsches and Ferraris but are standard on the Lexus. Each CCM disc is 11 lb (5kg) lighter than the racers' previous iron discs – a significant reduction in unsprung weight to the benefit of steering precision and dynamic agility. The front discs measure 15.4 in (390mm) in diameter, are 1.3 in (34mm) thick and are gripped by six-piston aluminum calipers, while the rear discs are 14.2 in (360mm) in diameter, 1.1 in (28mm) thick and feature four-piston aluminum calipers.
In front of those massively potent brakes are 10-spoke BBS Forged Alloy Wheels in a 20" diameter. The front wheels are 9.5" wide and weigh 28 lbs (12.7 kg) apiece, while the rears are 11.5" wide and weigh 32.2 lbs (14.6 kg) each and are held by lug bolts, as opposed to lug nuts. Unlike the Lexus IS F, which features a luck-of-the-draw choice of Bridgestone or Michelin tires, the LFA will come exclusively with a new generation of Bridgestone Potenza tire which will be revealed at the 2010 Geneva Auto Show in March. We do know, however, that in their LFA application they will be 265/35 ZR20 at the front and 305/30 ZR20 profile at the rear, and bear an asymmetrical tread pattern that is
not
unidirectional, thus allowing for side-to-side tire rotation. The LFA also employs a direct-type Tire Pressure Warning System that constantly monitors air pressure for each individual tire.
In another seemingly counterintuitive decision by Tanahashi-san and his engineering staff, the LFA employs a constant ratio electric power steering system. Sure, many of us are aware of electric power steering's advantages in weight savings and avoiding the horsepower loss of hydraulic power steering systems, but isn't EPS a surefire recipe for reduced steering feedback? Theoretically, sure, but the engineers took a good number of measures to counteract this, from ample race tuning to the use of a large-diameter column shaft mounted directly onto the central carbon fiber chassis structure to reducing the pinion-shaft cross-angle from a typical 20° to 10° to more effectively mesh with the steering rack to the use of powder grease to reduce friction. Even the design of the steering wheel itself gets into the act, with its hollow carbon-fiber reinforced composite structure, reduced 360mm diameter and flat-bottomed design that creates a higher rotational center closer to the steering wheel's center of gravity, making it less affected by centrifugal force. The weighted lower steering wheel also mitigates the moment of inertia that occurs when winding off lock and returning the wheel to center, providing the driver with a more natural self-centring steering feel. Also, for all the talk of a constant ratio, Paul Williamsen of Lexus College assures us that the
level
of power assist is speed-variable, from full assist at parking speeds to virtually no assist at higher speeds.
Form and function inextricably intertwined
Japanese carmakers are notoriously tight-lipped whenever they turn to an Italian
carrozzeria
or design studio to style one of their vehicles (the Italdesign Giugiaro-penned 1st-generation Lexus GS being a notable exception), but it is an open secret within the car design community that the original Lexus LFA concept coupe that debuted at the 2005 Detroit Auto Show was at least partially the work of Leonardo Fioravanti. During the 24 years he spent working for Pininfarina, Fioravanti styled such revered Ferraris as the original Dino, its 308 GTB successor, the 365 GTB Daytona and 365 GT4 2+2, the 512 Berlinetta Boxer, and the more competition-oriented P5, P6 and 288 GTO. In 1987 he founded his namesake studio, at first focusing on architectural projects in Japan, but in 1991 he returned to his first love of automotive design. Besides the first LFA concept, Fioravanti also reputedly designed the 7th-generation/T230 series (2000-2006) Toyota Celica.
As the LFA marched on from wishful-thinking concept to actual production car that gave notice that Japan was ready to compete
mano a mano
with the top-ranked supercars from Italy, Great Britain, Germany and the United States, engineers and the wind tunnel played an ever more significant role in the LFA's design as it evolved from initial concept to second concept coupe to concept roadster to production version. The final version, all told, was designed primarily by Toyota's Japanese design studios.
Given the LFA's great levels of pre-production exposure, not only through the second coupe and roadster concepts but in its multiple appearances at the Nürburgring as both prototypes undergoing testing and endurance racers at the ADAC 4-hour and 24-hour events, the only notable surprises the final production version held was the front end styling and the 10-spoke wheels. That front end is marked by what, to this author, are the only two mildly objectionable elements of the LFA's styling: the owlish-looking headlights with the fussy detailing and sculpturing of the surrounding bumper and hood cutlines; and the huge gap between the trailing edge of the bumper and the leading edge of the hood that dwarfs even the notorious one on <A HREF="http://carphotos.cardomain.com/ride_images/1/2898/2561/7243780053_large.jpg">the 3rd-generation Acura Integra</A>.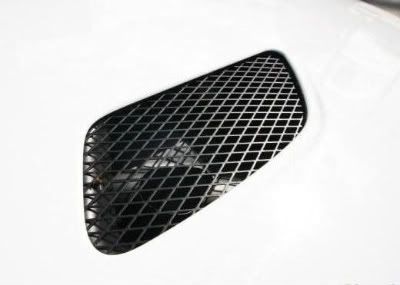 Listening to Lexus' LFA Product Presentation, though, it becomes crystal-clear that, beyond the old "form follows function" canard, form and function are inextricably intertwined. That gap I just commented on? An air intake for the air filters. Yet, each side is fitted with a rubber seal to prevent excessive airflow into the engine compartment, ensuring superior aerodynamic performance. The large triangular grilles at each end of the front bumper, below the headlights? They contain ducts that help keep the front brakes cool. The two trapezoid-shaped hood vents (one of which is shown above)? They are positioned right above two "chimneys", or heat risers that help bring in more cooling air while expelling excess heat, keeping it away from the titanium exhaust manifold. The intakes behind the doors, towards the bottom of the car and above the rocker panels? They cool the rear brakes and supply air to the rear-mounted radiators. Even the usefully large outside rearview mirrors get into the act, for their inside edges are shaped to help channel cool air into intake scoops over the rear fenders that rise from the shoulder line below the side window and feed the rear-mounted radiators. Keen observers will note that, with each LFA iteration, this high-mounted intake scoop has grown from polite gash in the 2005 LF-A concept to prominent swoop in the 2011 LFA (see below) that recalls <A HREF="http://www.coachbuild.com/gallery/d/20814-2/Bertone_Alfa_Romeo_BAT_11_2008_27.jpg">Bertone's Alfa Romeo B.A.T. concepts</A>. In this instance, though, Paul Williamsen informs us that the change was more for aesthetic effect than for aerodynamic or cooling reasons.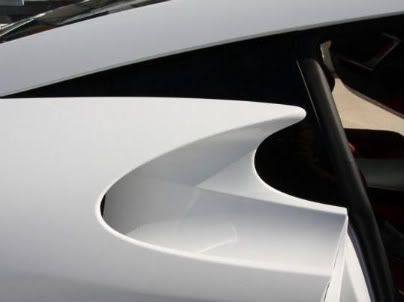 The large grilles below each taillight, naturally, help keep each of the two rear-mounted radiators cool. Within each grille, though, is yet another "chimney" which conducts heat away from the main muffler and lets out air from an underbody tray to help cool the titanium exhaust. And, speaking of the exhaust, rising from a carbon fiber rear diffuser is the LFA's iconic triple exhaust layout in a downward-pointing triangle, which will surely be as memorable in supercar annals as the <A HREF="http://www.seriouswheels.com/pics-def/Ferrari-F40-Rear-Red-5-st.jpg">Ferrari F40's three-across exhaust</A> (itself echoed in their new 458 Italia) or the <A HREF="http://s2.desktopmachine.com/pics/P-zondaF-20-1024.jpg">Pagani Zonda's circular "rocket booster"</A> design. At a standstill, the Lexus LFA shows the barest hint of a rear lip spoiler atop the rear deck, but, in fact, it has an active rear wing – complete with a Gurney flap on its rear edge – that rises at 50 mph, rather than at the more ticket-baiting 70 mph of Porsches and the Audi TT. Once deployed, it shifts the center of pressure towards the rear of the car and increases high-speed stability.
The Lexus LFA's drag coefficient of Cd 0.31 may seem inordinately high when compared to Lexus' sedan lineup that ranges from 0.26 for the RWD Lexus LS to 0.30 for the IS F, but Tanahashi-san and his band of engineers were more concerned with optimizing downforce than producing a record-low coefficient of drag. Combining that 0.31 drag coefficient with at least 522 pounds of downforce at the LFA's top speed of 202 mph, however, is no mean feat, but one that has happened thanks to the carbon fiber rear diffuser; active rear wing; strategically located fins, spats and inserts ahead of the tires, at the base of the A-pillar, at the rear end of the C-pillar and along the rocker panels; plus a smooth and flat underbody, all the results of hundreds of hours of wind-tunnel testing and relentless computer modelling using powerful Computational Fluid Dynamics programming. The mid-2005 decision to change the LFA's construction from all aluminum to primarily carbon fiber reinforced plastic (CFRP) has been widely touted for its making the body-in-white 220 lbs (100 kg) lighter, but it also produced another major benefit by giving the designers far more freedom to create shapes, curves, sharp edges and cutoffs that improve aerodynamics but would've been impossible to render in traditional metals such as steel or aluminum.
Ryan of Club Lexus' penchant for detail photography revealed a curious difference betwen the two Lexus LFAs that were present at Homestead: the white car's front side marker lights jut out at the rear, looking like a translucent doorstop that has been pasted onto the bumper (see above), whereas the black car's is a more aesthetically pleasing flush design (see below). Is this design indecision on Lexus' part, or just two different marker light configurations required to meet divergent laws and standards in various world markets?
The LFA Exterior and Interior Configurator
Given the fact that its most direct rivals are European supercars whose moneyed clientele is accustomed to bespoke tailoring for the smallest interior and exterior detailing, it's hardly surprising that <a HREf="http://ww2.lexus-lfa.com/index.html">the official Lexus LFA Website</A> includes a fun Exterior and Interior Configurator. All told, the LFA offers a selection of 10 Standard Exterior colors, 20 Special Exterior colors (available as of January 2012 production), 6 Brake Caliper colors, 3 Wheel finishes, Seat Fronts and Backs in a choice of 12 Leather and 10 Alcántara colors, 12 accent Stitching colors, 12 Steering Wheel accent colors, 5 Carpet colors, 3 Headliner colors, 2 interior Metal Trim finishes, plus an extension of the 12 Leather and 10 Alcántara colors into the lower Instrument Panel, Door Trim and Center Console, which works out to roughly 30 billion possible combinations (for a total production run of 500 cars!) Bear in mind, though, that all those McDonaldsesque billions include such possible abominations as a Passionate Pink exterior with Gold calipers, Camel Yellow headliner, Violet leather seat fronts, Cream alcántara seat backs, Red carpeting, Bordeaux leather-accented steering wheel, plus Orange alcántara lower instrument panel, door trim and center console that would make even a <A HREF="http://images.google.com/images?hl=en&um=1&q=harlequin+volkswagen&sa=N&start=0&ndsp=18">Harlequin Volkswagen</A> blush.
Then again, this author's dream LFA isn't exactly an exercise in restraint and subtlety, either, with its Pearl Blue exterior, Red calipers, Silver wheels, Orange alcántara seat fronts, Blue leather seat backs, Blue stitching, Orange-accented steering wheel, Blue carpeting and Orange leather lower instrument panel, door trim and center console. Also, <A HREF="http://lexuslfa.wikispaces.com/">
WikiSpaces.com
</A>, via <A HREF="http://www.autoblog.com/2009/10/22/lexus-lfa-paper-model/">
Autoblog
</A> gives you the opportunity to own your own virtual LFA, virtually free. And its all-paper construction makes the real CFRP and aluminum vehicle seem like a leaden paperweight (pun not intended) by comparison...
So, what, exactly does Lexus stand to gain by producing the LFA?
Even with a U.S. Manufacturer's Suggested Retail Price described as $3––,––– with something around $375,000 touted as the likeliest figure, it is widely predicted that the LFA will ultimately be a money-losing proposition for Lexus' parent Toyota. This isn't altogether surprising when it comes to ground-breaking supercars made of costly materials, as even the Bugatti Veyron, with its roughly $1.5-million price is still said to be sold at a loss. Whereas the Veyron is seen as, more than anything, a product of Ferdinand Piëch's
hubris
, the Lexus LFA is a useful engineering exercise for Toyota and the future of automotive construction. Given the inherent conflict between escalating levels of weight-adding safety equipment and comfort features versus weight loss-demanding ever more stringent fuel economy and CO2 laws affecting modern cars, carbon fiber and carbon fiber reinforced plastic (CFRP) have emerged as potential saviors that allow car fans and owners to "have their cake and eat it, too", so to speak. In a series of "pick your battles" judgement calls we outlined earlier, Lexus chose to retain port-only fuel injection and a single-clutch sequential transmission versus newer alternatives, yet didn't hesitate to start over and delay the introduction of the LFA when it discovered around May 2005 that the originally-planned aluminum construction failed to deliver the expected weight savings.
Fortunately, Toyota's origins as the Toyoda Automatic Loom Works (a manufacturer of textile weaving frames) served the carmaker unexpectedly well in this quest, and, for the creation of the Lexus LFA's carbon fiber A-pillars adapted one of two rotary weavers in existence (the other, according to <A HREF="http://www.autoblog.com/2009/10/29/video-weaving-the-lexus-lfas-carbon-fiber-a-pillar/5#comments">
Autoblog
commenter Sean Flanagan</A>, is in the textile engineering department of Philadelphia University). Of course, other carmakers such as <A HREF="http://www.autoblog.com/2009/11/02/add-lightness-bmw-signs-joint-venture-to-further-carbon-fiber-r/">BMW (in conjunction with the SGL Group)</A>, <A HREF="http://www.businessweek.com/autos/autobeat/archives/2008/07/are_japanese_ca.html">Nissan and Honda (in conjunction with Toray Industries)</A> have announced or are rumored to have important mass-market carbon fiber-related projects in the works, but Toyota's work on the LFA arguably puts Japan's largest carmaker at the vanguard of these efforts.
While the Lexus LFA's primary, indisputable
raison d'être
is as a test bed for a future where making cars as light as possible while maintaining high levels of comfort and safety is imperative, it is also an overt, in-your-face statement that Toyota's (and Lexus', by extension)
mojo
that once led to the Toyota 2000GT, the Mark IV Supra, the
hachi roku
Corolla coupe, the Celica All-Trac and various MR2s is back full-force. Sure, the Toyota Altezza, Lexus IS and IS F have done their share to keep the flickering flame from extinguishing outright, but the LFA is a full-on blowtorch that reignites the fire in an explosive manner. Of secondary (but by no means negligible) importance is the promise that the development of Lexus' first automated sequential manual transmission (and Toyota's second, after the 3rd-generation MR2 Spider) will see this sort of transmission – be it with a single or dual clutch – work its way down to other Toyota and Lexus models. We should also note the LFA's use of Lexus' stalwart VDIM suite of electronic assistants and electric power steering. Purists may bemoan their presence in a supercar like the LFA, but they should, instead, be construed as the ultimate test for ensuring that these "electronic nannies" are optimized for maximum sporting, enthusiast-friendly "feel" and handling. In other words, the lessons learned by LFA Chief Engineer Haruhiko Tanahashi in developing more sporty, tactile and natural-feeling VDIM and electric power steering should translate, down the line, to other future Toyota and Lexus models, such as the 3rd-generation Lexus IS and the production version of the Toyota FT-86 concept (the so-called "Toyobaru coupe").
Speaking of FT-86, some observers see Lexus LFA influence or flavor in its styling, and Toyota's reticence in revealing to what degree its platform strays from its purported Subaru Impreza or Legacy origins have led some to speculate that the so-called neo-Celica may, in fact, share the LFA's front-mid-engine and rear transaxle layout. Fantastic news if it's true, but, for now, this is merely speculation. Even more speculative is the hope that there will be a neo-Supra to plug the gap between FT-86 and LFA, and this author sees it as highly unlikely.
Yet another tangential benefit from the LFA might be its very made-to-order, customized nature. Lexus, after all, has shown signs of a willingness to be bolder in its interior offerings, first with the two-tone interior offerings on the HS, IS F and IS C, followed by the <A HREF="http://lexusenthusiast.com/2009/04/16/lexus-gs-passionate-black-interior-now-available-in-north-america/">Passionate Black</A> (a.k.a. <A HREF="http://lexusenthusiast.com/2009/05/05/photos-of-the-lexus-gs-passionate-black-interior/">Touring Special Edition</A> or <A HREF="http://lexusenthusiast.com/2009/06/30/lexus-gs-passionate-black-interior-photos-round-2/">Interior Accents package</A>) 2009 GS and the new-for-2010 <A HREF="http://www.lexus.com/models/LS/sport/index.html">LS 460 Sport</A>. Then, less than two weeks before the LFA's official unveiling, Lexus announced the <A HREF="http://www.clublexus.com/forums/car-chat/457777-lexus-japan-l-select-interior-customization-details-announced.html">L-Select customization program for the Japanese Domestic Market LS</A>. Might the latter, combined with the LFA's bespoke levels of tailoring, hint at a future L-Select line of Lexus models to rival Mercedes-Benz's
designo
and BMW Individual lines?
Where does the Lexus LFA fit in within the supercar firmament?
The term supercar hardly describes a single cookie-cutter, one-size-fits-all formula that defines supercardom. Sure, a supercar has a certain level of exclusivity and performance, but there is hardly consensus as far as number of cylinders in the engine, whether or not forced induction comes into play, engine and transmission placement, how much luxury and comfort enters the equation...the list goes on and on. So, how, then, to define which of the supercar(s) the Lexus LFA is most directly aimed at?
Cylinder count? The LFA's V-10 cylinder configuration is shared by the Dodge Viper, Lamborghini Gallardo and its Audi R8 V10 derivative. The Dodge Viper, however, is a far cruder device. The Lamborghini Gallardo is smaller and, in all-wheel-drive LP560-4 trim, heavier than the LFA. Its Audi R8 V10 cousin is, like the LFA, a stretch into unchartered supercar territory for the brand, but its easier-to-drive, more comfort-oriented demeanor also give it a less favorable power-to-weight ratio than the Gallardo, not to mention the LFA.
Hmmm...power-to-weight ratio, then? The Lexus LFA's 552 hp V10 in a 3263-lb car give it a mere 5.9 pounds per horsepower to move around, an exemplary figure that is bested by very few cars. Among those that do is the aforementioned Dodge Viper, the RWD-only LP550-2 Valentino Balboni version of the Gallardo, the Chevrolet Corvette ZR1, the ultra-rare $1.4 million+ Aston Martin One77 and, just barely, the upcoming Ferrari 458 Italia.
Mid-front engine with rear transaxle layout? The Lexus LFA shares this with all current Aston Martins, Chevrolet Corvettes, the just-launched Mercedes-Benz SLS AMG and the Ferrari 599 GTB Fiorano. Given the latter's just-north-of $300,000 base price, this author concurs with Mark Gillies of
Car and Driver
magazine that "in many ways, its closest natural rival is the Ferrari 599 GTB, although the Lexus is more visceral and exciting and better balanced and more nimble". Having never driven the Ferrari, I'll have to take his word for it. I
have
driven the Lexus LFA, however, and Part 2 of this story will describe the experience...
Photos courtesy Flipside909