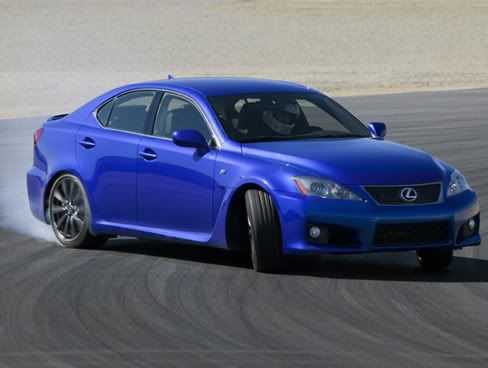 Following on <A HREF="http://my.is/forums/f43/red-white-blue-lexus-f-invades-america-339065/">the Lexus IS F Performance Experience at Laguna Seca in California on 15 August 2007</A> and its later visit to <A HREF="http://my.is/forums/f43/lexus-f-performance-experience-comes-floridas-moroso-motorsports-park-348900/">Florida's Moroso Motorsports Park on 19 January 2008,</A> Lexus has kicked it up to the next level and launched the
Lexus Performance Driving Academy
, highlighting the IS F performance sedan.
Lexus invites you to take the exceptional dynamic handling, power and performance of a Lexus -- and push it to the limit at a track near you. Enjoy a mix of acceleration and adrenaline as you master the art of high-performance competitive driving and sample a range of extraordinary Lexus performance sedans -- from the IS 350 to the blazing fast IS F. No traffic lights. No speed limits. No compromises.
This exciting driving event will visit the following locales:
Chicago, Illinois
Autobahn Circuit
3795 South Patterson Road
Joliet, Illinois
Friday 9 May thru Sunday 11 May 2008
Los Angeles, California
Auto Club Speedway
(formerly known as California Speedway)
9300 Cherry Avenue
Fontana, California
Friday 30 May thru Sunday 1 June 2008
Summit Point, West Virginia
Summit Point Motorsports Park
2026 Summit Point Road
Summit Point, West Virginia
Friday 27 June thru Sunday 29 June 2008
Atlanta, Georgia
Atlanta Motor Speedway
1500 N Highway 41
Hampton, Georgia
Friday 11 July thru Sunday 13 July 2008
For the first time, Lexus will offer the option of two distinct driving experiences:
TWO-HOUR PERFORMANCE SESSION
is a fast-paced combination of professional group instruction with an unforgettable, on-track driving experience behind the wheel of Lexus performance sedans. Your session begins with hands-on instruction by three professional instructors in the fundamentals of high performance vehicle handling, before you go on to drive a Lexus IS 250, IS 350, GS 460 and GS 450h through a succession of pulse-pounding laps. Later, you'll have the opportunity to experience the sheer power and superb handling capabilities of the amazing Lexus IS F. And finally, you'll experience a thrilling hot lap in the IS F and will discover its capabilities with a pro driver behind the wheel.
The Two-Hour Performance Session is held on Saturdays and Sundays and is Free of charge.
1/2 DAY ULTIMATE PERFORMANCE EXPERIENCE
is the ultimate full-throttle experience: a comprehensive, half-day session, focused on advanced competitive driving skills behind the wheel of the incredible Lexus IS F. Activities include:
Chalk Talk:
Learn grip dynamics, contact patch, line theory, the 100% rule -- and more.
Relay Rally Race:
Compete in an exhilarating exercise where teams have one goal: to clock the best team time around the track.
Timed Autocross:
Shave time off every lap with personalized coaching and technique instruction from pro race drivers.
Lead/Follow:
Feel the power of the custom Brembo brakes, throttle blips on the downshift, and the face flattening acceleration of the 5.0-liter V8 in an on-track lead-follow exercise.
And for the truly fearless, each ULTIMATE session offers you the chance to accompany professional race drivers as they take the Lexus IS F to the limit in a series of blazing fast hot laps.
And you won't leave empty-handed, either, for each ULTIMATE session includes a Premium gift bag and an Exclusive award ceremony.
The 1/2 Day Ultimate Performance Experience is held on Fridays, at either 7:30 AM or 11:30 AM and costs $295 to attend.
Just as the Lexus IS F's US$56,000 MSRP is a bargain, given its equipment levels and absence of a gas guzzler tax versus its Audi RS4, BMW M3 and Mercedes C63 AMG archrivals (a topic we'll elaborate on in a future my.IS and LexusF.com Front Page story), that $295 registration fee compares quite favorably to the $595 Audi charges for its Driving Experience 1/2 Day Enthusiast Program, let alone the $1295 cost of the BMW M School or Mercedes AMG Challenge.
To register for your choice of Performance Experience (all drivers must be at least 21 years of age and present a valid U.S. drivers license), visit <A HREF="http://www.tasteoflexus.com/performance/">the Taste of Lexus Performance Driving Academy website.</A> To register, make sure to enter the Invitation Number issued especially for LexusF.com members:
LP41859209
. This code is only valid for the first 50 guests to register.