Senior Member
Join Date: Apr 2009
Posts: 377
Mentioned: 0 Post(s)
Tagged: 0 Thread(s)
Quoted: 0 Post(s)
DBA (Disc Brakes Australia) makes very good rotors. I asked them about ISF rotors from future owner point of view and they were not making them, but it has been a while, might be worth to check with them.
StopTech and AP Racing are 2 other big names in brakes.
I would carefully consider ceramic pads, surely they make a lot less dust, but they also don't bite as hard.
I tried the Hawk ceramic pad vs. Hawk HPS pads on my current vehicle, it's HPS all the way. They will squeal after a while, but only under certain conditions.
Slotted rotors are another thing to consider vs. cross drilled. I had a neighbor with a Dinan S3-R (that's a supercharged E46, fully built) who went with the Brembo GT package once, and said the rotors cracked. (mind you, he drove the car daily at some very serious speeds)
Lastly, If you really love your wheels, take them off once a year and detail them by hand.
(and also the wheel wells)
I'm a big fan of the stock brake setup on the ISF, awwwwesome stopping power (for my use at least) I've had to stomp on them a few times
---
2015 RC-F from 2008 IS-F...very happy
Member
Join Date: Dec 2010
Location: Toronto
Posts: 38
Mentioned: 0 Post(s)
Tagged: 0 Thread(s)
Quoted: 0 Post(s)
Quote:
Originally Posted by
ashutoshvsingh
View Post

Another thing, is that they can pain the rotors with any color I want and put a sticker of my choice, but they are asking for 150$ per rotor, anyone has any opinion on it. If I get the red color and Brembo written on it, is it worth paying 600$ for it?

Ash
I painted them myself, as the OEM black clear coat was starting to peel.
Custom vinyl logo's were $5.00 each and G2 paint kit was $50.00 - I painted them on the car and it took 1 day, including cleaning, prep work, taping and multiple coats.
...and the satisfaction of doing it myself without a huge chunk of money going out of my pocket.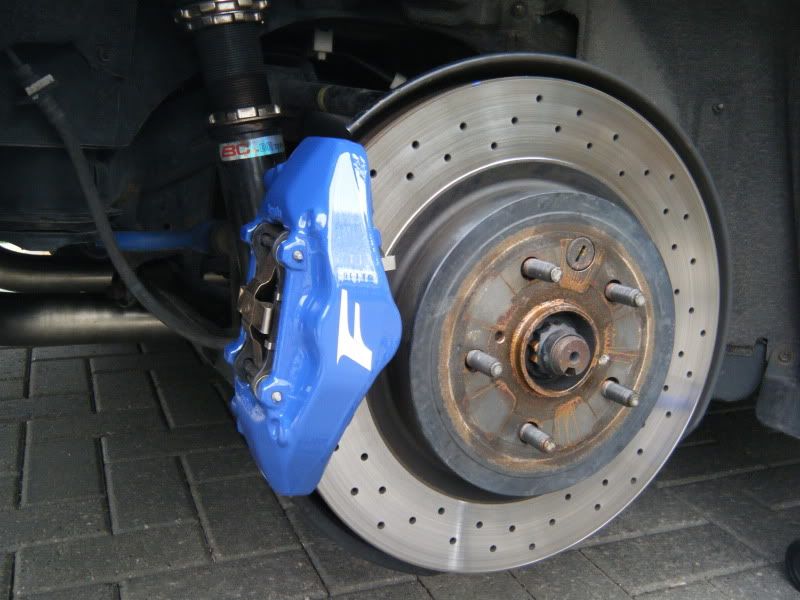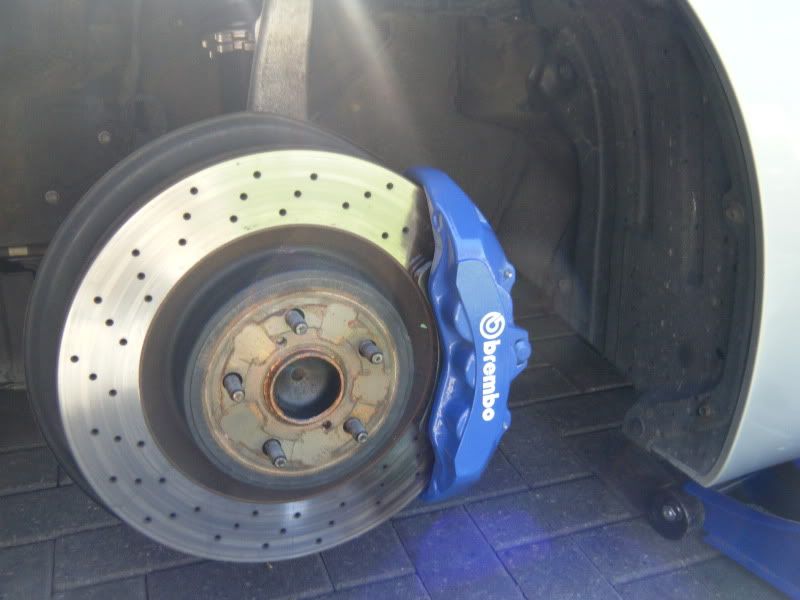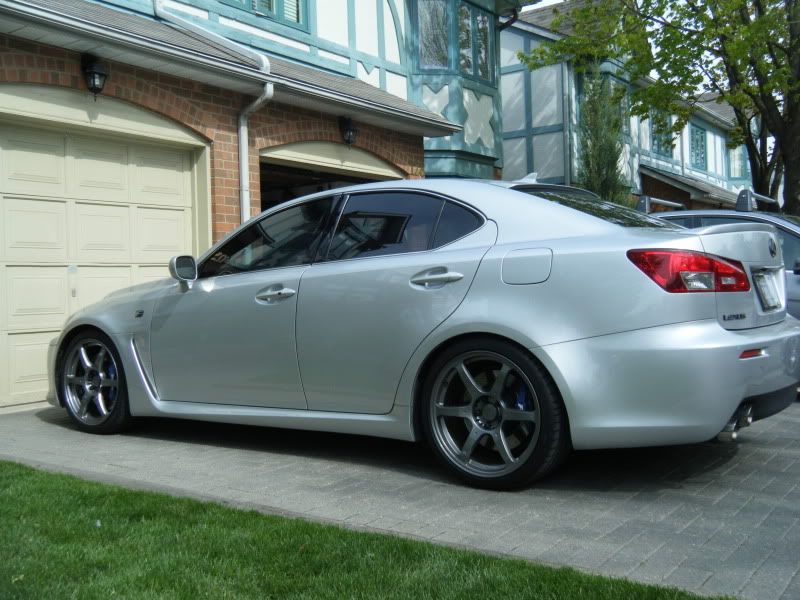 Digger08
---
2008 IS F Series 2/ Mercury Metallic 1F2/ Joe Z/ aFe/ Garax 6K/ Volk VR G2 19"/ F-Sport Rear Sway/ ISS Forged/ BCR/ Beatsonic
Senior Member
Join Date: Nov 2010
Location: Kansas City, MO
Posts: 119
Mentioned: 0 Post(s)
Tagged: 0 Thread(s)
Quoted: 0 Post(s)
Here's a suggestion... I found the best pricing on OEM brake pads by purchasing the front from Sewell Parts, and the rears directly from Carson. Both with Lexus forum discounts.
---
2008 Mercury Metallic Lexus IS-F w ML/NAV - SOLD
SPEED: K&N Intake, Borla Dual Exhaust, PPE race headers with custom 2.5 inch outlets,
Ported & Polished Throttle Body by Elite Engineering, Ported & Polished Intake Manifold by ExtrudeHone.
SHINE: Garax 6000k low beams, HIDExtra 6000k Fog Light Kit, VLEDs 6000k City Light.
SHOW: S4Play Rear Diffuser.
STANCE: Tein H Lowering Springs - front only.
STICK: 245/35/19 & 275/30/19 Michelin SuperSport tires.
Junior Member
Join Date: Jun 2012
Posts: 17
Mentioned: 0 Post(s)
Tagged: 0 Thread(s)
Quoted: 0 Post(s)
Digger, you did a nice job. I've contemplating doing this to mine by my finish looks great.
Junior Member
Join Date: Jul 2010
Posts: 6
Mentioned: 0 Post(s)
Tagged: 0 Thread(s)
Quoted: 0 Post(s)
Don't put on wearever front brake pads, they so and don't wast no money!!!! Only on ideas on a a very good foot set of front pads? That will still on a dime. Please
[email protected]
. Any help. We help me me. Out. Thanks. Lexus FAMILY ..,,,,
Posting Rules

You may post new threads

You may post replies

You may not post attachments

You may not edit your posts

---

HTML code is Off

---