Eurotopia is trying to bring new and exciting driving related events to you and we just nailed a big one, click on the banner for more details.
Our Eurotopia t-shirts are finally here and we'll have them at our March 29th Drive & Lunch. You can pre-order quantity/size
here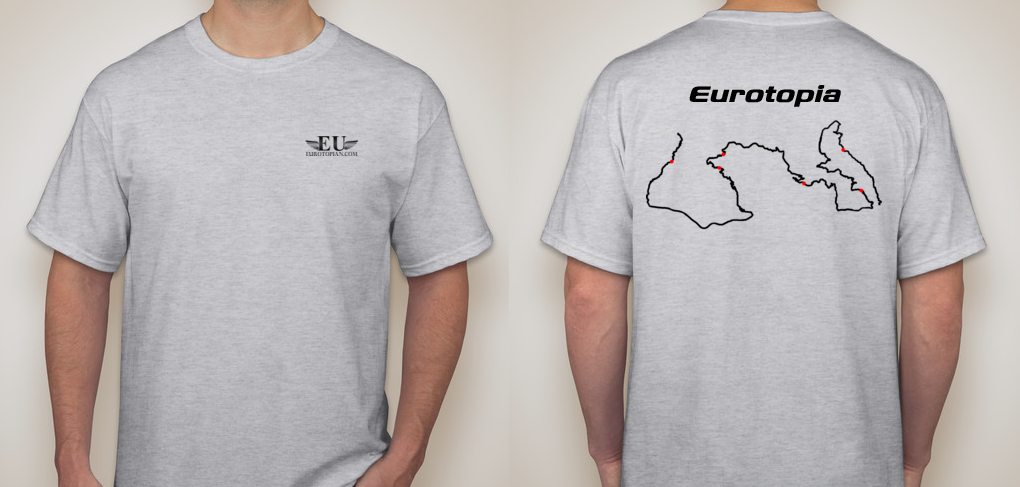 4 days left folks, the weather is going to be beautiful and we've got 105 cars registered to this event (please register on Eurotopian.com).
We had 102 cars show up for our Mulholland 03/29 Drive & Lunch:
================================================== ==================
We've got several events planned from April through August of this year. Register on www.eurotopian.com for more details.
We've got prizes/giveaways for the month of May and you won't want to miss out on them. There will be two separate ways to win prizes/giveaways and you can enter into both:
- May 23rd, the ROTM (Ride Of The Month) contest is free to enter.
- May 24th, there will be limited spots for a free car lift/corner balancing day.
You will find all the information below for both:
The top three popular cars by vote will receive prizes from Hero Motorsports and they are as follows:
- 1st place winner gets oil change job (motor oil, air filter, and labor) for their car (valued around $250 depending on car make/model).
- 2nd place winner gets motor oil, oil filter, and air filter for their car (valued around $150 depending on car make/model).
- 3rd place winner gets 2 quarts of motor oil for their car and Hero Motorsports & Eurotopia t-shirts (valued around $50)
To qualify please register for free here: http://eurotopian.com/thread/700/rid...ed-motorsports
~~~~~~~~~~~~~~~~~~~~~~~~~~~~~~~~~~~~~~~~~~~~~~~~~~ ~~~
Our sponsor Hero Motorsports (25 years in European car service) has done it again! 996tt has stepped forward to host an event on May 24th, Saturday, at their Van Nuys location. They will be offering one free raffle per car for a chance to win multiple FREE* car clinic sessions in their 13,000 square foot facility.
If you are looking to work on your car (supervised by their mechanic) or corner balancing your car including a complimentary lunch and free giveaways then this event is for you!
To RSVP please register for free here:: http://eurotopian.com/thread/699/fre...-24th-saturday
Pics from our 5/17 rally from Malibu to SD:
The prizes...
2nd place and 3rd place winners were from Eurotopia: bergerstahl and motoringmagic
545i driven by HerminatorF545
The line-up of rally participants (roughly 25 cars)
Top of Ortega
Best themed rally participant...
Junior Member
Join Date: May 2014
Posts: 19
Mentioned: 0 Post(s)
Tagged: 0 Thread(s)
Quoted: 0 Post(s)
I live far away, but my inform my friends who are at a driving distance to look for this.
Our May 24th free clinic event had a nice turnout considering it was memorial weekend. We had Euros come in that needed either corner balancing or some sort of minor fix/repair/install with the use of a few hydraulic lifts at no charge to Eurotopia members. It ended with a nice Costco pizza lunch and prize giveaways... and the entire event was free.
A big thank you to BG Productions & MJ50 Foto for shooting the event:
***** Our next event will be August 22nd, Sunday, please visit the link below to RSVP for free *****
http://eurotopian.com/thread/554/dri...-angeles-crest
Posting Rules

You may post new threads

You may post replies

You may not post attachments

You may not edit your posts

---

HTML code is Off

---